Beaumont Community Players, opened the doors April 9 for its first live performance in 13 months with "I Loved, I Lost, I made Spaghetti," a one-woman show written by Jacques Lamarre, based on Giulia Melucci's memoir of the same name.
Now, I rarely review community theater (too many friends), but I really want to promote the show, which also serves as BCP's fundraiser after a year of no income. It's a good show. It has humor and pathos, and is a starring performance for Ramona Young. OK, this is the not-unbiased part — she's my partner in real life. Obviously, I think she's great, but the audience's comments from opening weekend seem to back me up.
I won't wax lyrical about the sheer gusto of the performance and the way she charms the audience — in truth, director John Manfredi did a smart piece of casting, as Ramona and Giulia seem to share quite a few characteristics. And Ramona lets us get to know Giulia as she works her way through her relationships.
I think I mentioned it's a one-woman show. One person. No one else. With a lot of lines to learn.
Did I also mention she makes spaghetti? Seriously, a ticket gets you a show and a meal. Made from scratch — including the pasta. Forget about how good Ramona's performance is (I mentioned that, right?). She deserves an award for being able to cook while telling stories. I think that has impressed people even before they get to the show itself. "I can't make an egg properly if someone even asks me a question while I'm cooking" seems to be the general response.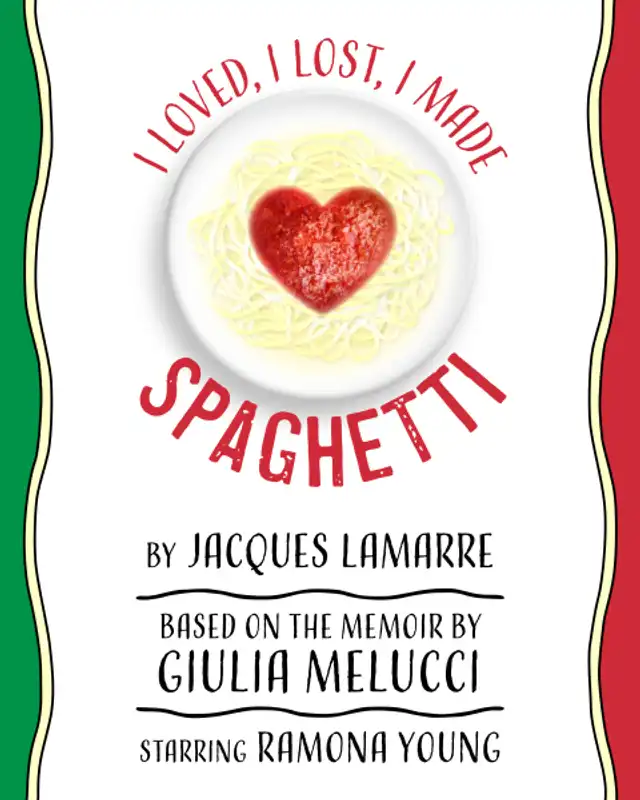 It took a lot of practice. First, Ramona had to learn the lines. Then she forgot all the lines while trying to get the cooking down (it's a process — I've done plays where I learned lines and then I got on set only to find the simple fact of a door being in my way for the first time in rehearsal has thrown me off).
But she worked through it. At home Ramona ran lines. In the car she ran lines. In bed she ran lines. And she made pasta — boy, did she make pasta. One weekend she made six batches to get the timing right. Six eggs or seven? Did it make a difference what size the eggs were?
The last few weeks of rehearsal required making a full batch of 12 meals (each performance allows for a socially-distanced audience of a dozen), with the food being donated to meals on wheels (BCP putting the community in community theater).
By opening night, I settled in for the show, hoping the kinks were worked out. The set, a fully functioning kitchen, looked great. Ramona came onstage, opened the fridge, took out some ingredients, and "Giulia" began to regale us with often hilarious tales of old boyfriends. Let's just say that her romantic skills didn't quite match up to her culinary expertise.
I found elements of myself in each of the boyfriends (although I seemed to identify most with their faults, which makes me slightly nervous). It is a clever script, and both opening weekend audiences seemed to quickly adapt to the intimate setting. We really felt like we were in Giulia's kitchen, sharing a glass of wine and just listening to her stories.
This is the first time the play has been performed in Texas and the first time by an amateur theater. It was good. Ramona was great. The spaghetti was delicious. And it was lovely to be back in the theater.
Tickets are not cheap ($250), it is a fundraiser after all. Tickets are selling well but there are still some available. It's worth wrangling a ticket if you can — support local theater.
"I Loved, I Lost, I Made Spaghetti" continues at 7:30 p.m., April 16, 17, 22, 23 and 24, with a 2 p.m. matinee, April 16. Options to stream the show at a later date are being explored.
For more information, visit beaumontstages.com.